Clearing The Air about Precleaners
Turbo Precleaners remove up to 98% of the dirt, dust, rain and snow before it reaches the air filter. Air filter life can be extended by 8 to 10 times whilst saving fuel, maximising power and extending engine life.
O.E.M. supplied precleaners are NOT enough!
We'll prove it.
The filter life charts below demonstrated the difference. An actual test was independently conducted using Arizona coarse dust (SAE test dust) which consists of 38% by weight of particles less than 20 microns.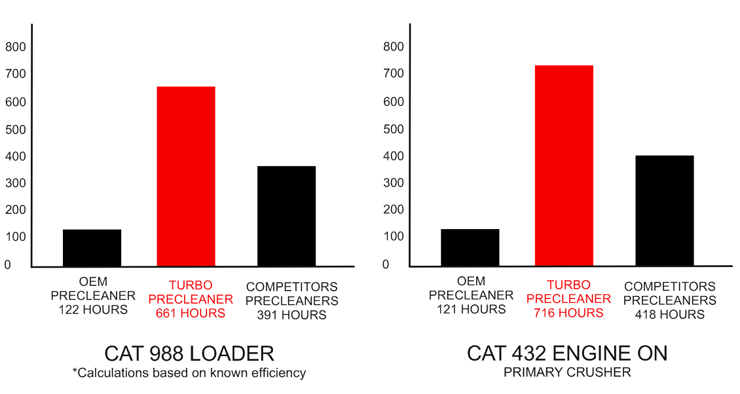 Turbo clearly made the difference.
Engine oil anaylsis also shows a major reduction of silicon and wear particles when a Turbo Precleaner units is installed.
Turbo's 'Custom Balance'
Turbo Precleaners remove 50% more dust from entering the air filter than other aftermarket precleaners while adding only half the air restriction.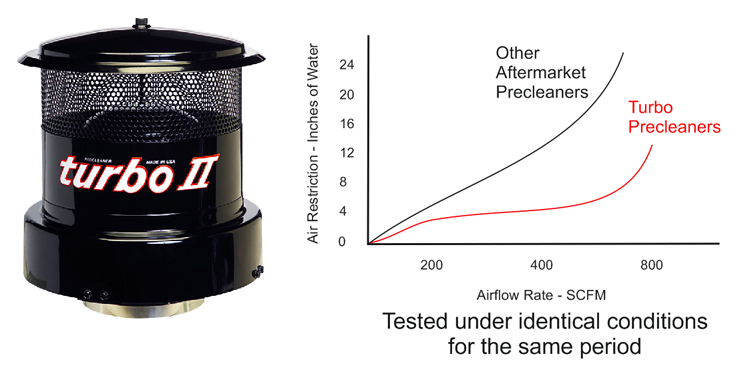 There is no other O.E.M. supplied aftermarket unit that has the 'Balance' of performance and engine protection that a genuine Turbo Precleaner offers.
Make the difference to your equipment - fit a Turbo Precleaner!