turbo III Model 390 Precleaner

It's a completely new turbo design, with smooth trouble free bearings, twist-lock cover design and heavy duty features certain to meet the most demanding applications.
Description
The turbo III provides ultra high efficiency with low restriction and protects your engine and machinery from micro abrasive dust.
Specified and trusted component by UK OEM's
High strength, durable, UV and corrosion proof glass-reinforced polymer construct
Provides years of superior machinery protection and trouble free service
Self powered
Self cleaning
Minimises costly down time
Quick and easy to install in minutes
Manufactured in the USA from glass filled, durable polymer.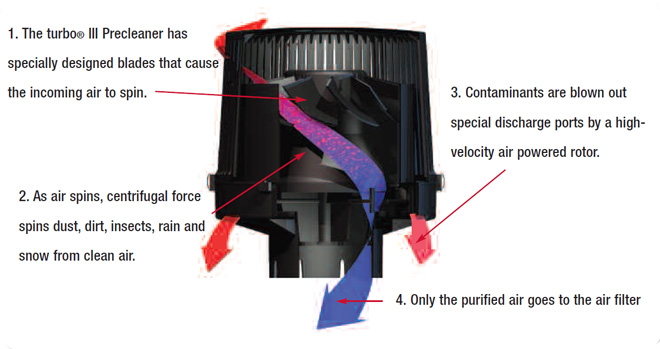 turbo III Engine Precleaner Model 390 Sizes
| Model | CFM | m3/min | Inches | mm |
| --- | --- | --- | --- | --- |
| | Airflow Range | | Inlet Diameter Size | |
| Model 390 5" | 300-700 | 8.5-19.8 | 5" | 127 |
| Model 390 6" | 300-700 | 8.5-19.8 | 6" | 152 |
| Model 390 7" | 300-700 | 8.5-19.8 | 7" | 178 |
| Model | Inches | mm | Inches | mm | Lbs | Kg |
| --- | --- | --- | --- | --- | --- | --- |
| | Outside Diameter | | Height | | Weight | |
| Model 390 | 12.37 | 323.34 | 11.49 | 291.85 | 6 | 2.72 |